Ah, holidays again. This time we're going to spend two weeks in Brittany. We have an itinerary we've loaded our bikes and will catch the Fastcraft to Cherbourg.
This will be our first holiday in many years which didn't involve either driving to, or driving through, a wine producing area. Instead, we will have to frequent the wine section in supermarkets even though this doesn't feel quite right. However, we are in luck. In many of the supermarkets they are holding wine fairs and are offering a wide range of wines at rock bottom prices, eg 3 for the price of 2. Who knows, maybe we'll take advantage of a number of such offers and partially restock our wine fridge.
The selection of supermarket wines we bought, the selection is heavy on Loire wines from Saumur and St Nicholas de Bourgueil.
Dinan
After filling up with cheap French diesel (€1.08/litre equivalent to £0.93), we drive to our campsite, la Hallerais, a 4 star site approximately 1 km from Dinan and approximately 100m from the river Rance, and we book in for 3 nights. Dinan is walking distance from the campsite ( albeit via a rather steep path) so explore it on foot rather than take the bikes.
We found Dinan fascinating, it is wonderfully medieval with narrow cobbled streets, countless half-timber fronted buildings, defensive walls and watch towers. We take a ride on 'le Petit Train' to get a good view of the whole of the old town and then spend the next couple of days looking around the old town.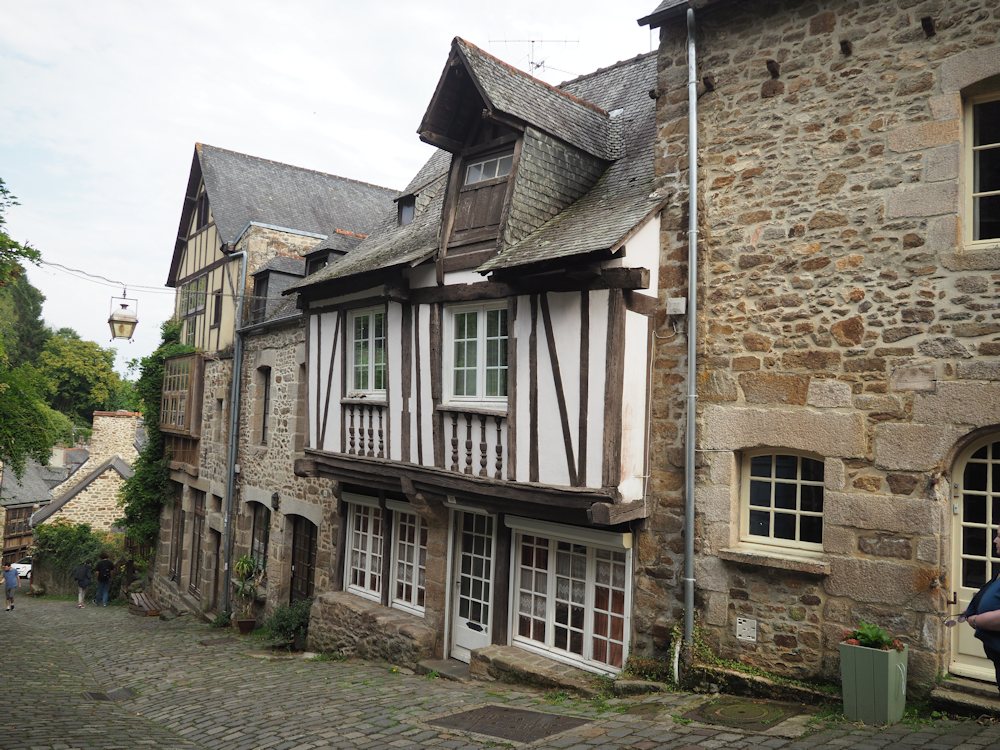 Click on the link to see more photos of Dinan.
Although there are supermarkets within cycling distance, we avoid having to visit them, as the Carrefour City (think Tesco Express) served our purposes well although that did mean walking back to the campsite with a rucksack full of provisions including a particularly good Saumur Champigny for around €6. We also found a couple of excellent Creperies in Dinan, where we enjoyed some galettes and local cider.
To Hell with the itinerary, we extended our stay by a further day so that we could see more of Dinan and we probably will be going back there sometime.
Lac Guerledan
Next stop is Lac Guerledan, which, according to its website is the centre for cycling and walking trails. The campsite is almost empty, bar some cyclists. We pay to stay for 2 nights but immediately feel that I've made a mistake.
It's a bit cold , the trails all turn out to be mountain bike trails and there is the sound of over- excited teens from the activity centre next door. Next day, we walk round the nearby town, Mur de Bretagne, before moving on, but instead of heading for Quimper as per the itinerary we head off in the direction of Josselin.
Josselin
Fiona's navigating took us into the one way system in Josselin, the stress levels are really rising, it's tight and medieval, its not meant for motorhomes. We find a car park occupied by some fellow Motorhomes, before heading off into town to see what it's like.
Wow, Josselin is beautiful, even with its one way system. We have a good look around the town, visit the nearest supermarket and then head off for the chosen camp site. We stay at the 'Camping Domaine de Kerelly' which is about a mile from the centre of town. Again, this site is almost empty, but nice and spacious, pitches separated by hedges, and nice washrooms so we book in for 2 nights. We met Andrew and Ann from Scotland, who shared some stories of their travels in their huge 8.3m Moho.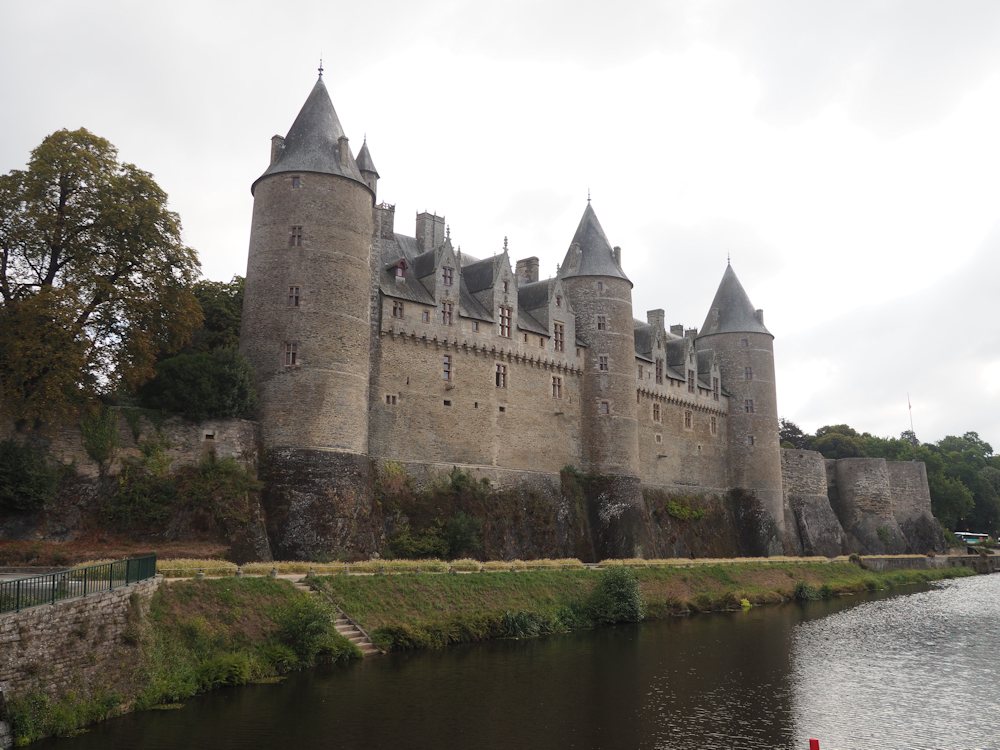 Click on the link to see more photos of Josselin and its surrounding area
Josselin is next to the Nantes-Brest canal with its cycle route. We cycled the path into Josselin, heading West to Rohan for a day, and then East to Malestroit the next day. The canal towpath makes a really good cycling path as there are no gradients, and the surrounding countryside is beautiful. Wildlife abounds- heron, cormorants, kingfishers, and an abundance of colourful butterflies along the towpath.
We're really enjoying Josselin so we extend our stay (itinerary? what itinerary?) by 2 nights so that we can see more of the area. In the 4 days that we stayed here, we cycled 88 miles and saw much of the area. In Rohan, we lunched at the only open restaurant, where we met a couple of Brits, who now live locally. Their recommendation of the Plat du Jour was spot on…Delicious French Cuisine, with a dessert to die for. This set us up nicely for the return cycle ride.
Vannes
Next its onto Vannes, a medieval city on the bay of Morbihan. Our base was 'Camping Le Moulin de Cantizac' south of Vannes and bordering on the commune of Sene. Of its 100 pitches only 8 were in use so it was nice and quiet; the campsite is within easy reach of local village shops and bus services.
After parking up on our chosen pitch, we unloaded the bikes and cycled into Vannes to do some exploring. Our first stop was at tourist information where we picked up a map of the town and then we headed off in the direction of the old city. We were both very taken by the ambience of the place as well as by the old buildings, narrow streets and sheer number of places to stop and eat, or sit and have a drink.
The next day we returned to Vannes by bus rather than use our bikes and we spent the whole day sightseeing, including a ride on the tourist train. Using the bus meant that we didn't have to walk around all day in our cycling kit.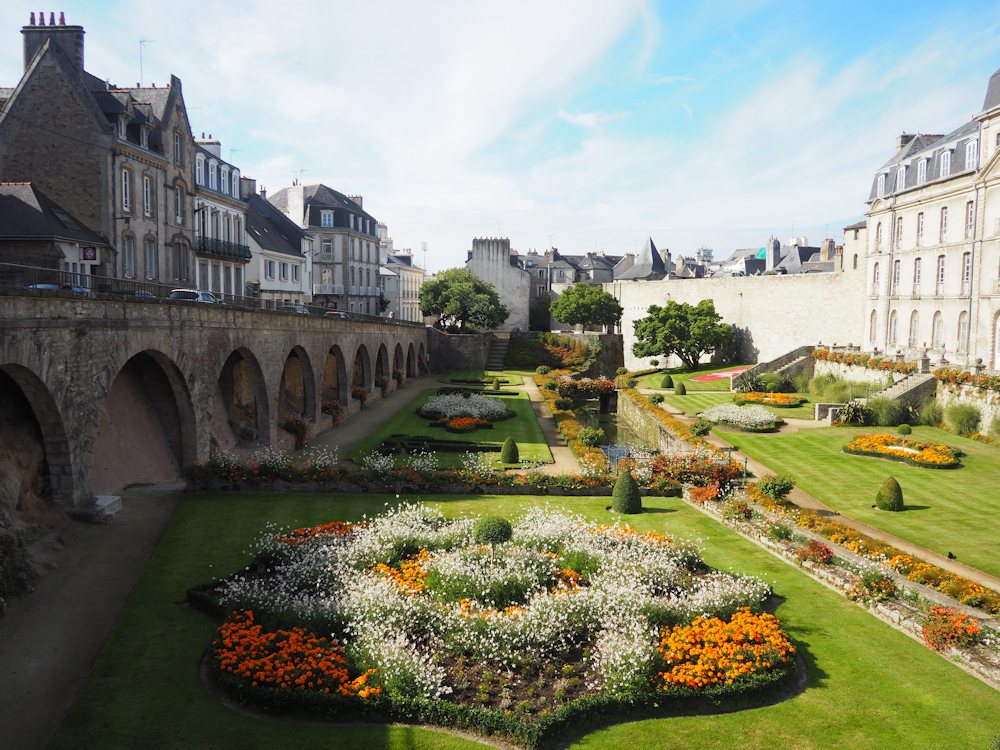 Click on the link to see more photos of Vannes
We didn't get to explore the Gulf of Morbihan which I think would have taken a few days, maybe we will next time.
Redon
My intention was to park in the 'Aire' for the afternoon while exploring Redon, and then head for a local campsite for the night.
The Aire had been changed into a regular carpark, and the local campsite, despite being well signposted, turned out to be firmly closed. We parked up elsewhere alongside a number of other Motorhomes and walked into town. The cathedral was impressive, but the town was a disappointment: Redon? More like Redoff.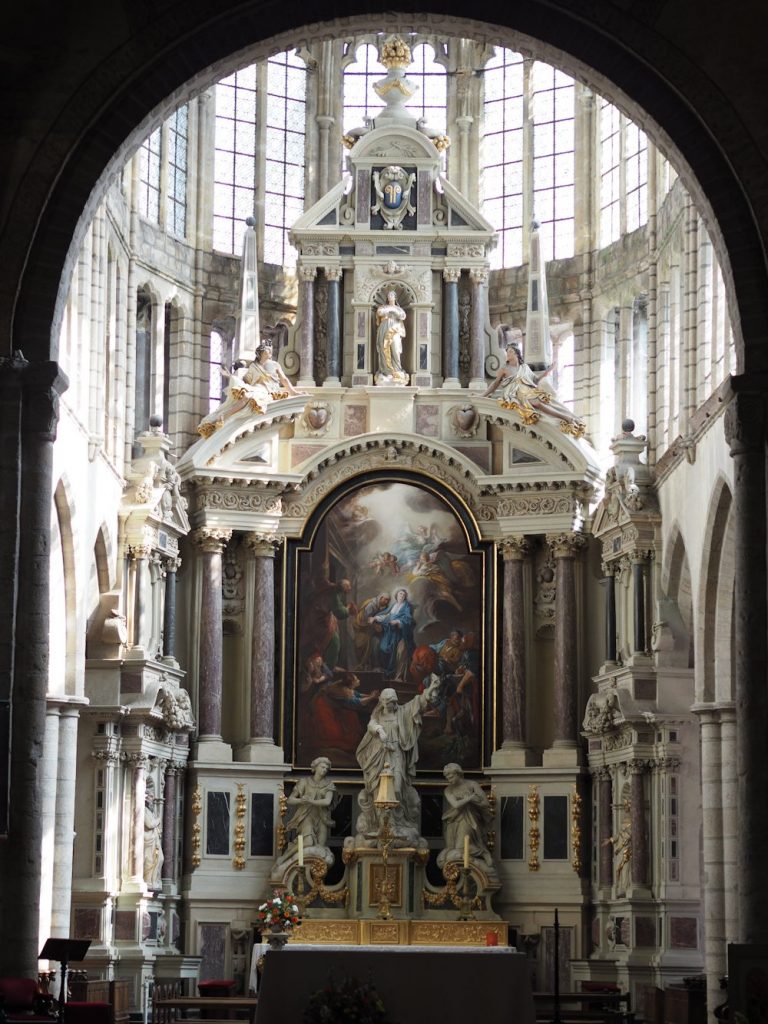 The Catholics certainly know how to 'do' God.
After our visit to the cathedral we decided that it wasn't worth staying there so we moved on in the direction of Rennes and stay a night at the 'Domaine de Kervallon' campsite near Caro. Kervallon is out in the countryside and we access it after miles and miles on very small roads, needless to say that my stress levels were high by the time we found the place. The site is beautifully quiet, a great place to chill, though we have other places to go.
Rennes
We stayed for only one night at Kervallon and then moved on towards Rennes.
We initially head for the Aire in Rennes but on arrival decided that it was too far from the town so we up sticks and head for 'Camping des Gayeulles' which is inside the Rennes ringroad and adjacent to a sports complex, within a huge park. We park up outside the campsite, as reception is closed for lunch, and catch the bus into the centre. We have become real 'public transport' users.
Rennes is a huge city so the first stop is tourist information to get a decent city map and then off to the old town.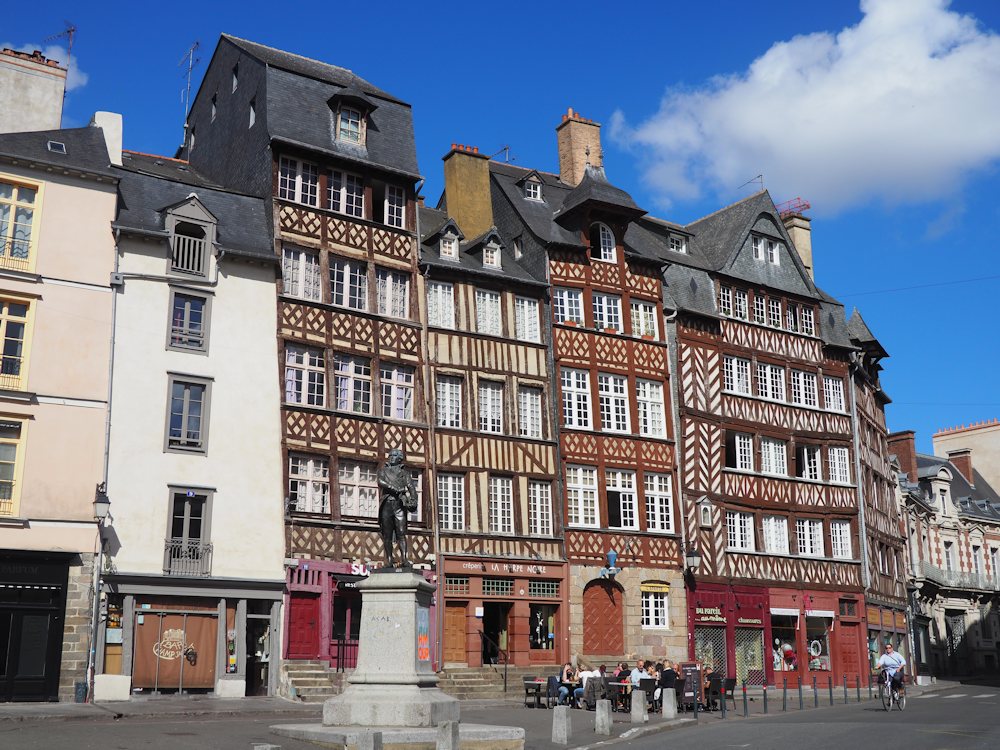 Click on the link to see more photos of Rennes
It's Saturday afternoon and Rennes is heaving with people, the city has a real buzz about it, and lots to see. We returned on Sunday, again by bus, and it was much quieter. We wandered around the old town for hours, stopping for lunch before catching the bus back to the campsite.
Villedieu les Poeles
Last stop before the ferry.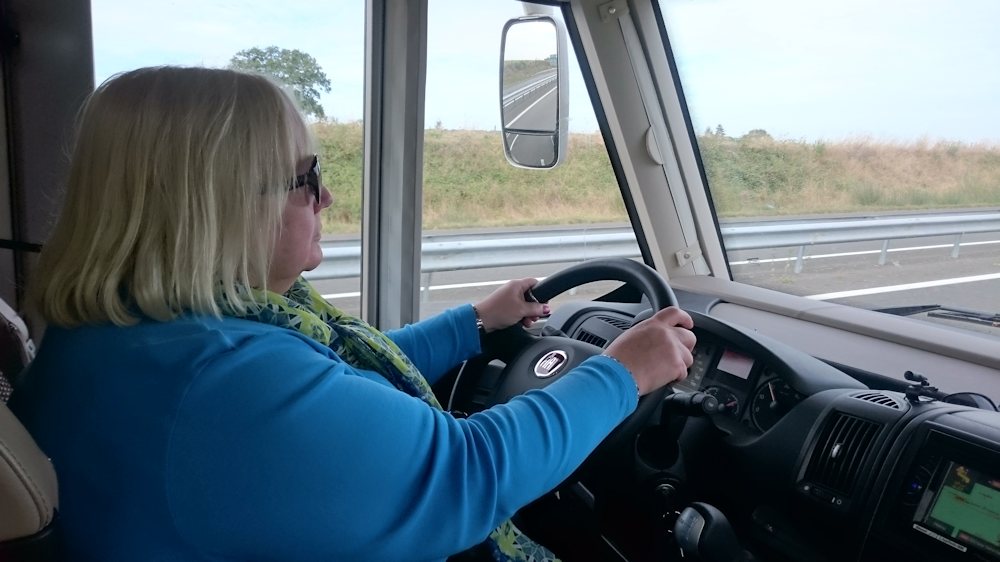 Spotting a roadsign announcing 170? km to Caen, Fiona decided it was time to try a bit of Moho driving. Pulling over at a Motorway service area, Fiona then took over at the wheel, intending to drive to the next services, but in fact, she continued to the next one, before chickening out at the prospect of the Caen Peripherique! Oh well, it's a start, eh?
We chose Villedieu as a stopover, because the 'Aire' and campsite are very close to the town centre. We park in the Aire and head into town for lunch then check out the campsite. Like almost every other campsite, Camping les Chevaliers is almost empty so we book in and then go and get the van before heading back into town for refreshment.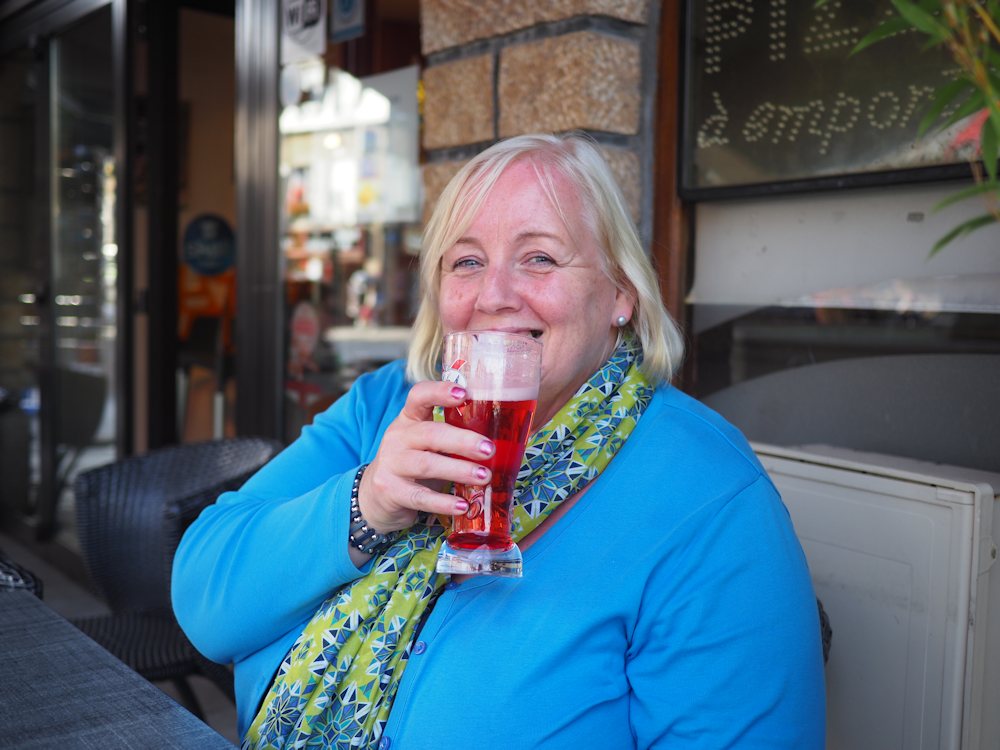 We both have a fruit juice but Fiona spies a 'yoof' drinking something red and is intrigued and can't resist one herself. Its called a 'Monaco' which is a beer shandy with grenadine. Its quite nice too.
We hadn't been to Villedieu for many years, it's a neat little town with a pottery from which I remember Fiona buying a number of pieces of handmade pottery. I thought we had bought 2 pottery items, but it turns out that we have 5.
Tuesday is market day so I wander around the cheese, meat, chicken etc stalls while Fiona pays another visit to the pottery and buys even more items that I will forget about even before we get home, including some handmade jewellery pieces. A lovely overnight stay here, before setting off to catch the return ferry at Caen.
We arrived, unusually, in plenty time at Ouistreham ferry port, and queued for what seemed like ages, having lunch in the Moho, whilst in the queue. Disappointingly, ours was then the very last vehicle to load onto the ferry. So, when you're sat on a ferry, watching the last few vehicles go up the ramp…they aren't necessarily Late Arrivals…..now we know.
So, another 16 night Moho trip to France- July then September. Lots of new places discovered this time, Brittany has some stunning towns, villages and cities. Moho life is great, we enjoy the freedom to move around, and are already getting itchy feet for our next trip.