We wanted to get away for a long weekend but with most of the UK campsites closed for the winter there are relatively few places to go. Last winter we thoroughly enjoyed the few days we spent at the campsite at Seend, near to Devizes, and so decided to book a pitch for Sunday to Wednesday 26th-29th November. Thankfully, Steve and Laura agreed to look after the cat for the duration so we packed up, filled up with LPG, refuelled and set off early on the Sunday afternoon.
The outward bound journey was uneventful and within 2 hours of leaving the house we had parked up, plugged in, and were taking a stroll along the Kennet & Avon canal in the fading light of the afternoon and stopped to watch the mumerations of starlings.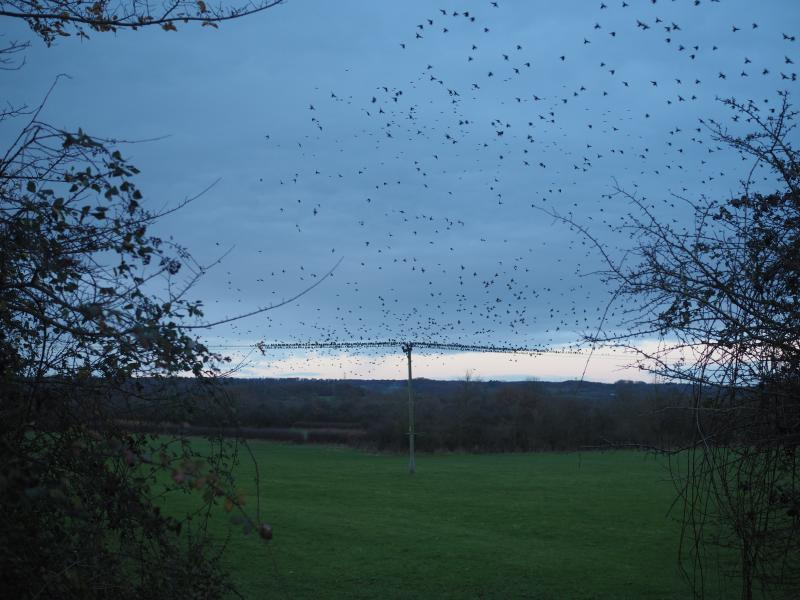 The weather forecast for the Monday was mediocre at best which gave us the excuse to take the early bus to Bath rather than walk to Devizes. The Bath Christmas market was in full swing so we meandered around from stall to stall while trying not to spend too much. We also had a good wander around the shops and escaped from the city before the evening rush hour started. Back to the van for a freshen-up and then over to the Three Magpies pub for our evening meal with some of the Waddingtons local brew for refreshment.
Seend is about 3 miles from Devizes, which takes a good hour and a bit to walk but is less than 15 minutes at most by bus. The canal tow path along along the canal goes along the spectacular Caen Hill lock system; a system of 29 locks extending over a 2 mile stretch. It was difficult getting decent photos of the lock system, I guess the best way would be to use a drone flying high above.
It's uphill to Devizes and downhill on the return journey, however on this visit after lunching and wandering around Devizes for a few hours we caught the bus back to the campsite.
We had intended to use our bikes to cycle along the tow path to Bradford-on-Avon but ran out of time. Maybe we will come back here at some point in the future.