The trek homewards towards the Caen ferry begins. Our fairly direct route from Nevers to Caen/Ouistreham is planned to be via Orleans where we have reserved a pitch for Monday night. We are now on first name terms at Olivet Camping! To fill the weekend gap, we try a site at Salbris, near the Sologne Forest. We've stayed in hotels in the area before, and the camping website looks good.
Our fuel light comes on about 10 miles from Salbris and I'm nervous, though, as Fiona is driving again, I will blame her if it runs out…sorted! As it happens, we find a garage, and fill up with (cheaper) French diesel..and find the campsite quite easily, after a quick trip to the local Supermarket for the usual supplies…mainly alcoholic!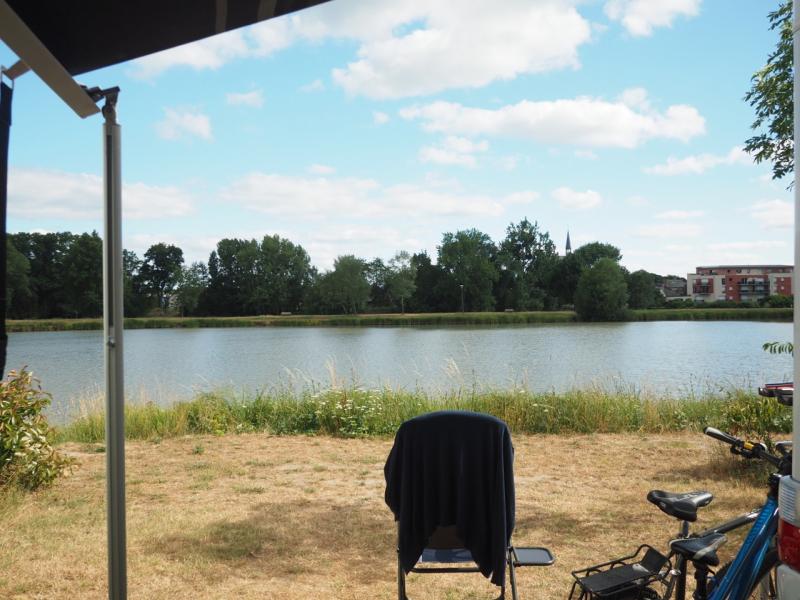 The site is lovely, the owner is very welcoming, and she offers us a choice of pitch. We opt for a lakeside setting which turns out to be perfect with our awning protecting us from the heat of the sun.
There is, she tells us, a music festival in town this evening, so we decide to wander into town to investigate. Hmmm…after the music festival in Avallon a few nights earlier, this is very different. I describe the music as Oompah meets Sangria…but the locals obviously enjoy it. There is a lot of clapping and audience participation. After a while, our ears are hurting, so we return to the site. We can still hear the music…and the finale of the evening is a quite spectacular Firework finale..the French sure know how to put on a show, even in small towns!
Throughout the holiday I have been on the lookout for Swallowtail butterflies which must be one of the most beautiful butterflies around. Thus far I have not caught sight of any.
We decided to go cycling while at Salbris, after all, there's not a lot else to do in France on a Sunday afternoon. We set off on a 30km cycle ride on small roads through woods and fields and with little or no traffic.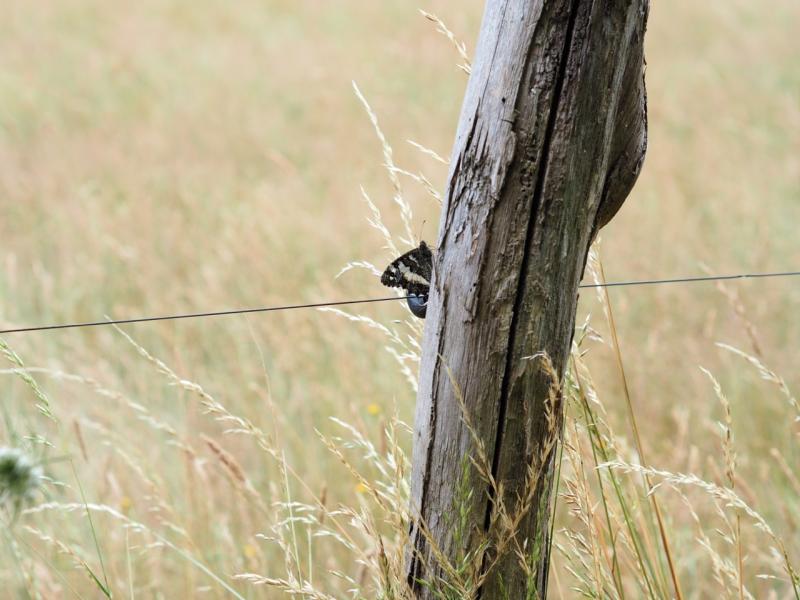 We stopped in a real hurry and grabbed the camera when I spied this beautiful creature fluttering over the meadow we were passing.  The little sod didn't stick around long enough for me to get a good shot though. But what a beauty (the butterfly not the fence post)!
We stayed at Salbris for 2 nights as it was very nice, then left on the Sunday morning heading for a stopover at Olivet before the long drive back to Caen.
The drive was long. 198 miles long. Thankfully Fiona drove the whole way so I arrived refreshed and relaxed. Heading north at Chartres we spied a Hen Harrier in a field, presumably there to end the short life of some furry mammal, anyway, it was the first one I'd ever seen.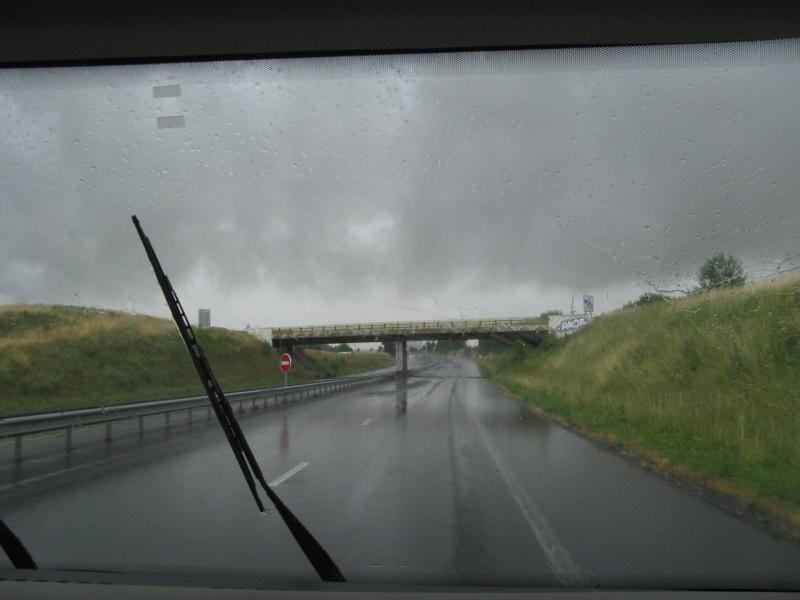 We knew when we'd arrived in Normandy as the rain started. When I say rain, I mean the thunder, lightning and the deluge which started at just before Falaise and continued until we arrived home.
Can't complain though, it was pretty much the only daytime rain we had in the 3 weeks we were away.
The van fuel light came on just before Caen, but then the 'low fuel' warning flashed soon after. This panicked us into a desperate search for a filling station.
The ferry journey home was ballsed up by Brittany Ferries. They had lowered the car deck by the time we boarded and so we had to wait until they had unloaded everyone else before we could get off. As we went through Passport control at Portsmouth, the officer aked "oh, you're from the Mont St. Michel sailing, are you?", as we were obviously way behind all the other passengers from the sailing. Grrrr….A real stinker will be fired off response to their 'how did we do…' email.