Well, its off to Winchester for a cheap day out. We have a giftcard for lunch, valid tickets for a visit to the Cathedral and the park and ride is only £2.50 after 10am.
Our lunch is courtesy of Sheena and Stuart Brennan who, a couple of Christmas's ago, gave us a giftcard for Rick Stein's restaurant chain which luckily has a branch in Winchester.
The bus journey from the park and ride took about 15 minutes. Our lunch table was reserved for 2pm so we had an hour to kill. Having visited the cathedral last August, our tickets gave us unlimited access for 12 months. I really begrudge giving money to any church so it was time to use those tickets again and get more of my money's worth.
The cathedral is a marvel of medieval architecture and craftmanship, as well as 19th and 20th century maintenance. There has been a cathedral on this site in Winchester since the year 640. The current cathedral dates from the 11th century has the longest nave and greatest overall length of any Gothic cathedral in Europe. Ah, the treasures on your own doorstep. God no longer lives here as he was evicted during reformation back in the 16th century, but there are still traces of him around the building.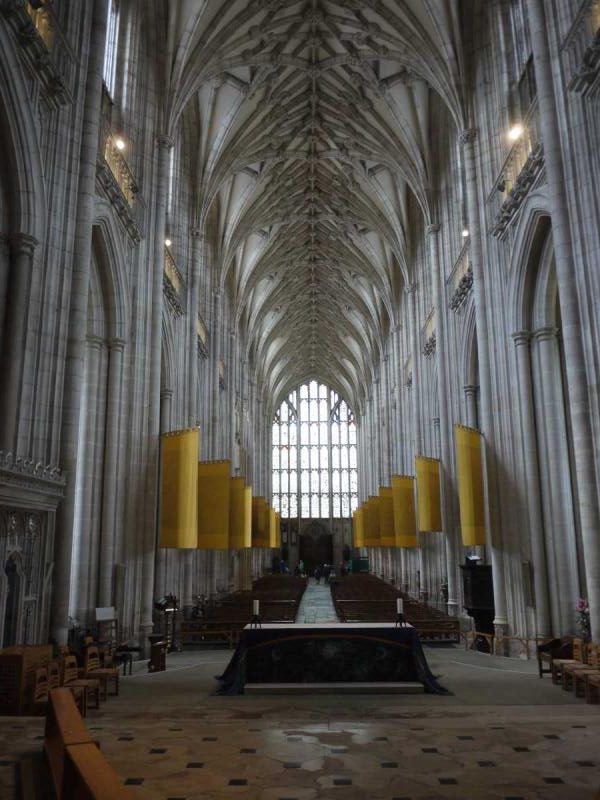 A view along the nave of the magnificent Winchester Cathedral
Visiting on a Monday was a good idea as there were relatively few visitors. Here is a photo of the nave looking towards the altar and choir. Note the tall vaulted roof. The aisle is replete with old gravestones and grave covers many dating from the 17th century.
Here is a gallery of the photos we took during our visit:
Once we had the cultural stuff out of the way, we headed off to the Rick Stein restaurant for lunch. As it was 'Rick's place' (not that one) we really had to choose fish and both started with the Amritsari fish starter which was white fish with a delicate spicy batter..truly melt in the mouth! For mains, Fiona chose the prawn dish, a mild prawn masala. I chose the hake. Again, both were delicious.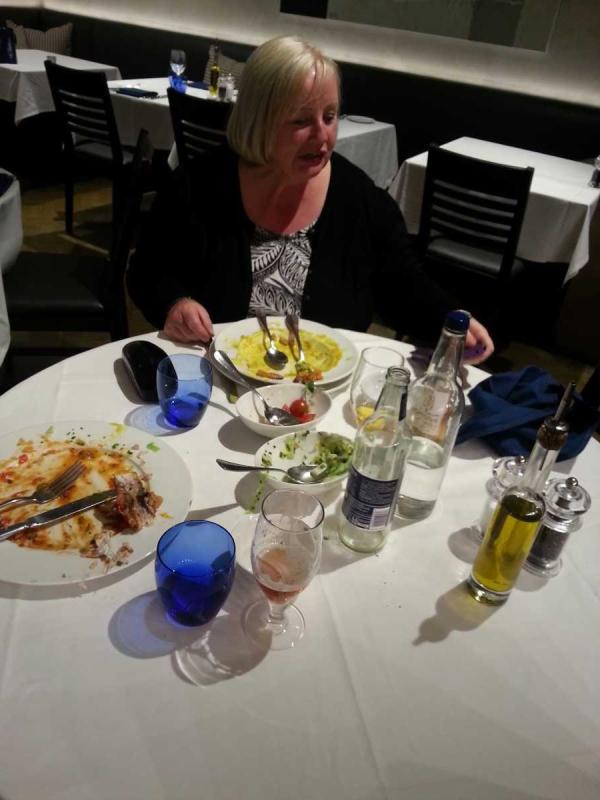 Many thanks to Sheena and Stuart for the giftcard.
Empty plates and soon to be empty glasses. Follow this with ice cream and lemon posset and wander around the cathedral again to walk off the alcohol before heading back to the P&R and the drive home.
All in all, an excellent day out.