Le depart
After days of warm, spring like sunshine we awoke to a Sunday morning of grey clouds, rain and gales. Worse than that, we were due to catch the 8:15 ferry to Caen and the winds had whipped the channel up into a frothing mass that would buck the ferry around like a toy.
Once on board we breakfasted in the main restaurant of the Mont St Michel. I wasn't feeling well. To make it worse I had to witness a member of the Volvo sailing team bullshitting some middle aged hippy about how 'massive' their sustainability budget was. As she went on and on I got sicker and sicker so retired to the cut price cabin for a long lie down in easy reach of the great telephone to God. Fiona, on the other hand, decided to go solo in the prize quiz, which had been announced by Andrew, the Entertainments Manager. She could easily have won; especially given that no-one else turned up. Miserable lot! In the absence of a quiz, Fiona went for a lie-down too.
The journey South
The drive south from Caen was scary; the bit on the bridge going over the Bassin de Calix was truly awful, with very strong cross winds. I seriously feared LC was going to flip over.
The drive down to Vouvray was too long to complete in a single drive so we decided to break the journey somewhere around half way. A few hours later and we arrived at our overnight stop at St Germain de la Coudre, and wait a minute; there's some err..travelling caravanners here, complete with an Alsatian. . I was too tired to drive any further so we stayed.
Monday morning saw us wandering around the village hunting down milk and a bakery; but this is rural France and it is Monday, so everything is closed- our journey continued without breakfast. As we left the Aire, our neighbours were just dismantling a barricade to the tennis court area, as you do (or at least they do). All 4 of LC's wheels were intact, phew.
We arrived at Vouvray early in the afternoon and found the free overnight motorhome parking straight away, parked up and headed into town for some food, as one of us had forgotten to bring the milk despite her being asked to do so.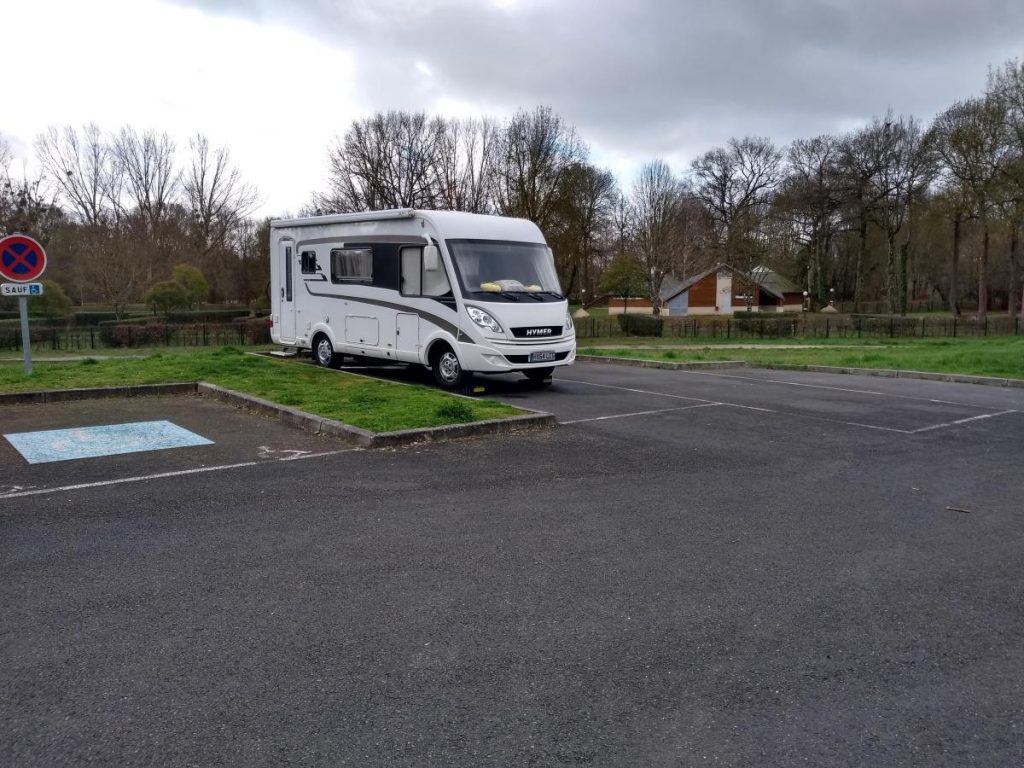 Provisions bought (once the only supermarket in town had reopened after lunch) we headed to the wineries for an afternoon of wine tasting. We found some delicious fizzy wine in the first place we visited, bought one bottle and headed off to another winery for the same again. The wine was an excellent accompaniment to a dinner of takeaway pizza from the Italian restaurant right opposite the motorhome parking.
Tuesday saw us revisiting our chosen wine merchant to try his still white Vouvray wines and to negotiate a discount on the fizz. We left the store with yet another sample wine having paid for the fizz that we came for. M. Fizzy agreed to keep the wine till we returned in a few days to collect it.
Tuesday also saw us running a little short of clean water as the borne at the aire had been turned off due to possibility of ice. We showered quickly but thoroughly on the Wednesday and headed off towards the vineyards of Saumur Champigny. We took a small detour to check out a Camping-Car park near Bourgueil where we invested €4 in their life-time membership with the intention of staying at one of their parks for the night as they have water, electricity, free wifi and are secured by entry barrier.
Sat Navs are really great, they are so helpful most of the time. Most of the time. Ours decided that we should cross to the south side of the Loire on the D952. Jeepers, the D952 bridge crossing at Montsoreau is barely wide enough for 2 cars to pass each other let alone a blooming great motorhome. That was 600metres of stressful driving I never want to repeat.
We sampled at least 8 delicious wines at our favourite wine cellar at St Cyr en Bourg, accompanied by a comedy routine from the guy at the desk, who then relieved us of a stack of €s after which we headed off to Villebernier for the night.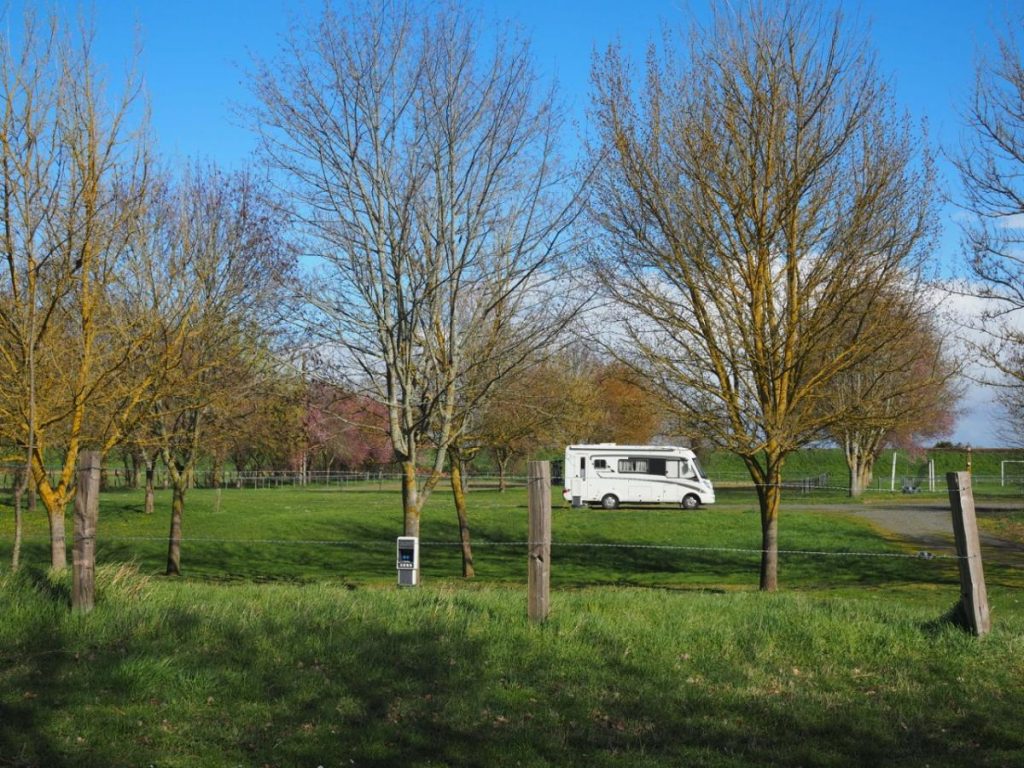 We spent an enjoyable evening at Villebernier, but overnight the heavens opened. It chucked it down from about 7pm until about 5am the next morning. As we were parked next to the Loire, I fully expected it to visit us during the night.
There was very little to do at Villebernier so we decided to move on to another Camping-Car Park, this time the one at Saumur which would give us easy access to this beautiful and ancient city.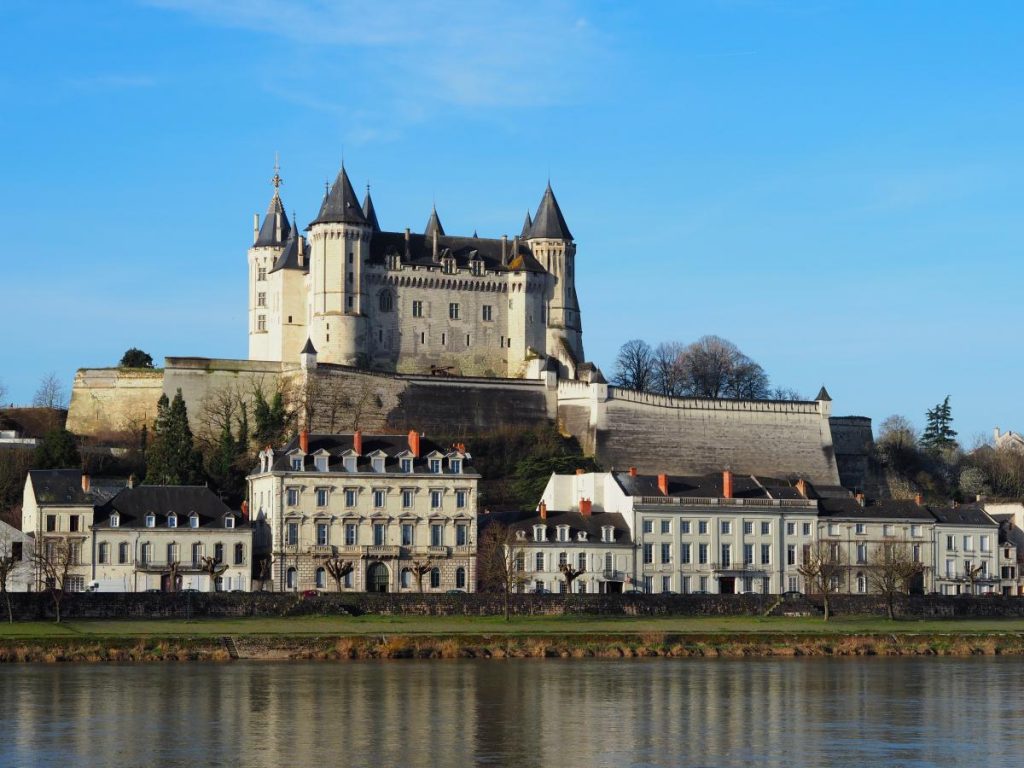 The Camping-Car park at Saumur, on L'isle d'Offard, is a short walk over a bridge to the city centre from where we visited the chateau and its surrounding old town. It is also an even shorter walk to local shops where we bought our breakfast croissants.
The journey back
It's Saturday morning and it's time to start our journey home via Vouvray to pick up some of our purchases. The journey from Saumur to Vouvray is uneventful but for some unknown reason the sat-nav again tried to take us across the Loire on the D952A suicide bridge at Montsoreau despite the warnings as shown in the photo below. Not bloody likely, sat- nav! Given that the sat-nav is set up with LC's dimensions, in particular her width of 2.35m, and the warning signs quotes 2m..WHY does she try to make us use this bridge?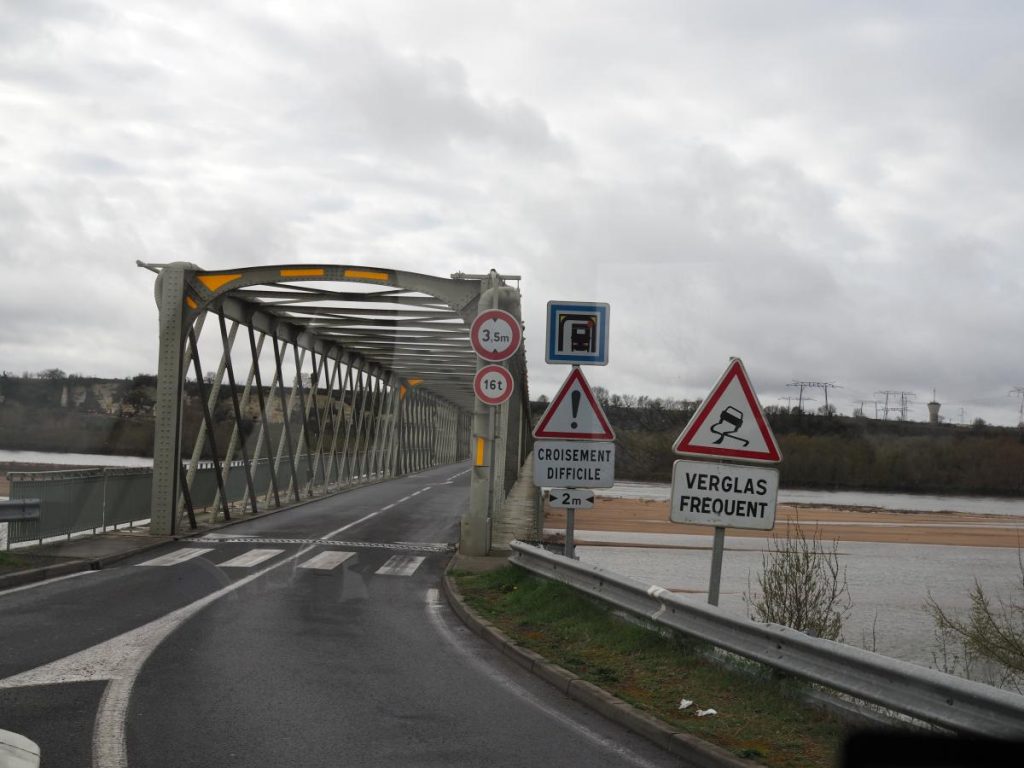 Arriving in Vouvray mid morning, our first priority was to pickup the fizz we had purchased a few days prior from the wine merchant Guertin, and to also buy some still white wine. While at Guertin, we treated ourselves to a bottle of St Nicholas de Bourgueil without tasting it as his stock was very low. Our next priority was to get a free parking place at the Vouvray aire, located in the middle of the village and then to have lunch. To accompany lunch, we opened the St Nicholas and quickly returned to Guertin to purchase his last case. It was delicious. In the afternoon, it was time for a walk around, and an ogle at some very grand houses in the village and beyond. Another excellent take-away pizza from the local Italian restaurant accompanied more of the St Nicholas and we settled in for a number of rounds of Rummikub and a very wet evening in the 'van in Vouvray.
The aire at Vouvray is very handy for the village, and while we were there it was never full, despite only having 3 spaces. Unusually for aires, it also had clean, 24 hour open toilets adjacent to the car park. Worth noting, it's also easy walking distance of the Boulangerie, and a supermarket, which is open on Sunday mornings, handy if someone has forgotten to bring extra coffee beans.
Coffee beans were bought at the local supermarche and then it's off to St Suzanne for a stopover for Sunday night, and a wander around this very old and pretty village. Along the way we watched the odometer closely as LC passed the 10,000 mile mark.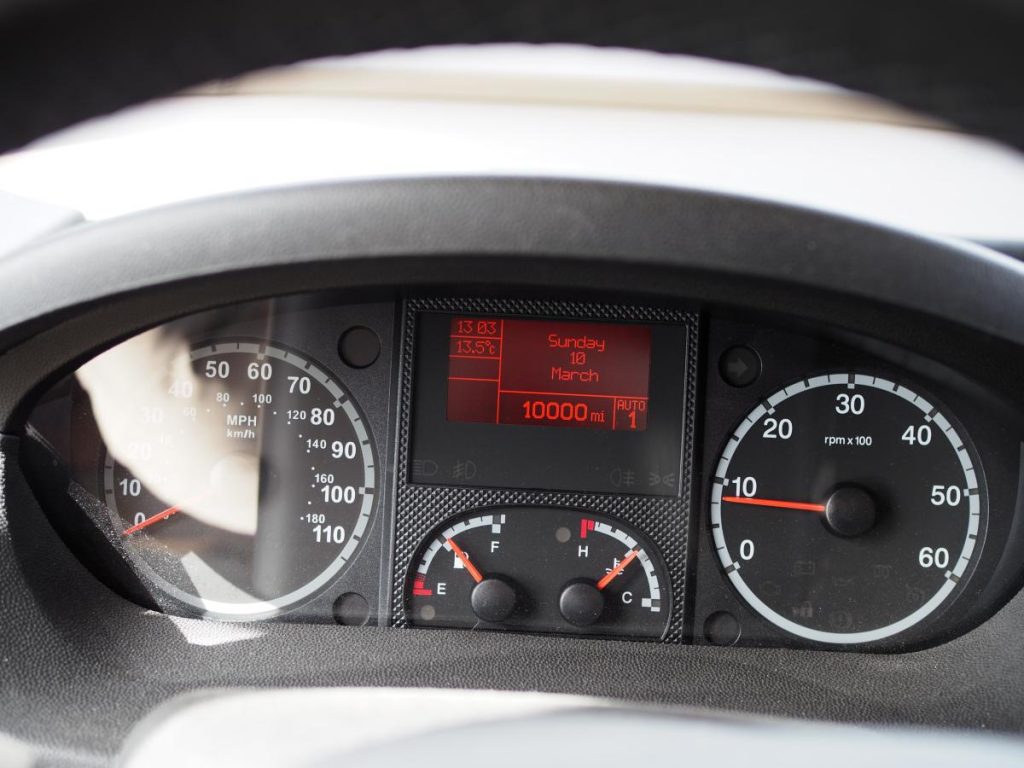 The wind had dropped significantly by tea time so we were able to get the BBQ out and cook outdoors. Setting off on the Monday morning , there was a bit of a Hotel California moment "you can check out any time you like, but you can never leave" The card reader at the exit barrier wasn't working, so we had to phone the CampingCar Park support number so that we could exit the carpark. A helpful French/ English conversation sorted us. All good fun.
The journey between St Suzanne and Villers Bocage was fraught. The sat-nav wanted to take us all over the place as can be seen in the photo below:
Ignoring the sat-nav and resorting to reading maps we reached the motorhome aire 2 hours 20 minutes earlier than sat-nav's predicted ETA, using her "unusual" route.
Villers Bocage is a pretty town, with a bustling main street. Look closely, however, and you will see that most shops are closed on Mondays..yip, we arrived on Monday! A quick couple of drinks were enjoyed in a bar- Andrew's 2nd beer of the trip, and my 2nd Monaco. Determined to find a restaurant for our dinner, we had a quick shifty at Trip Advisor, and once back in the van, after a quick post sat-nav nap for Andrew, we set off again into town. One particular bar/brasserie in our sights, we loitered, waiting for it to open at 7pm. Oh lala…spot on 7pm, we saw…the owner promptly take in his menu A- boards, so clearly it was a closure, not an opening, so, Plan B, we trotted off to Le Vrai Normand, a "posher" restaurant, offering regional specialities (neither of us fancied the tripe, funnily enough, but there were other, more acceptable offerings). Table for 2 found, the meal was superb…3 courses €15.40pp, all delicious, and finished off with coffees. Followed by a short walk back to the van.