Finally, time to escape for a few days. A quick trip to Normandy had been a possibility, but the costs and time spent on the ferry made a short break seem overly expensive so instead, a plan was hatched to visit somewhere more local. There are some easily reached counties near Hampshire, and now seemed an ideal time to investigate. The West beckoned us. Ever mindful that the school holidays were imminent, we weren't looking for coastal areas, happy for a bit of culture.
Wiltshire
Our first county hop. Soon, we were stocking up in Lidl just outside Salisbury , after which we headed off to the camp site. We had driven through Salisbury a number of times and had stopped there once for a meal, but we had never taken the time to have a good look around. This time we did. From the campsite the city centre is a pleasant walk of about a mile and a half, mostly along the river Avon, and the old centre was easy to find – we just looked for the tall spiky thing on the skyline.
We knew that the Cathedral was going to be special and it didn't disappoint. Conceived in the reign of Edward III and completed in only 38 years, this magnificent building really is a sight for sore eyes.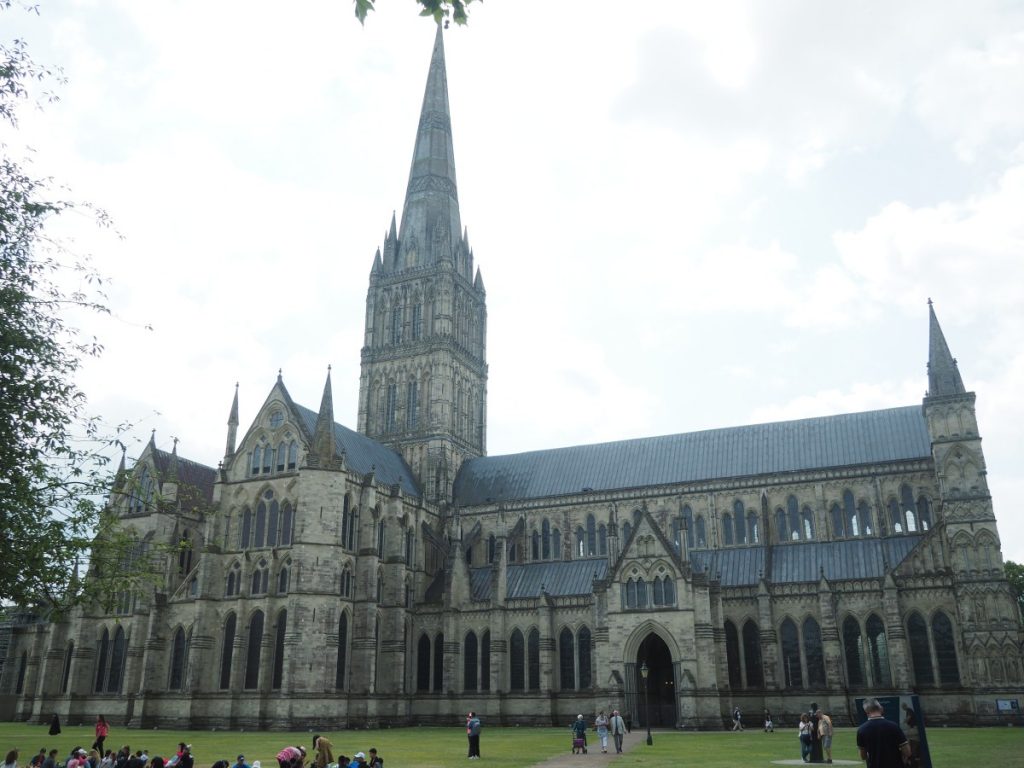 We paid the entrance fee (cunningly disguised as a donation) and explored the Cathedral; we even took advantage of the free, newly-established tour of the Cathedral's stained glass windows and to cap it all we viewed the Cathedral's original copy of the Magna Carta. The Cathedral is a magnificent edifice in really gorgeous surroundings, so during our 2 days in Salisbury we spent many hours wandering around the surrounding area, including the gardens- thankfully without a hint or sniff of the Novichok left by some suspicious Russian "tourists"in 2018. So, we now know a bit more about Salisbury, and it's well worth a visit. Next county?
Somerset
For Somerset, we chose Wells as our base for a few days. I'd wanted to go to Wells ever since watching the excellent film "Hot Fuzz" which was set there. Fiona had been before, on a flying visit. Our campsite of choice was Wells Touring Park, an adults only site. This was a short-ish walk from the city, but there was also a bus stop outside the site, so we opted for bus travel for a change. The site was great- spotless facilities, and it was quiet and peaceful. Once in town, we were ready to spot some film locations. There is a regular "Hot Fuzz" tour, on Saturdays, so we missed that. The cathedral is another stunning location, and, having paid another "donation", we were able to wander round and explore it. Wow! what a place….possibly even more stunning than Salisbury's , the jury's out on that one.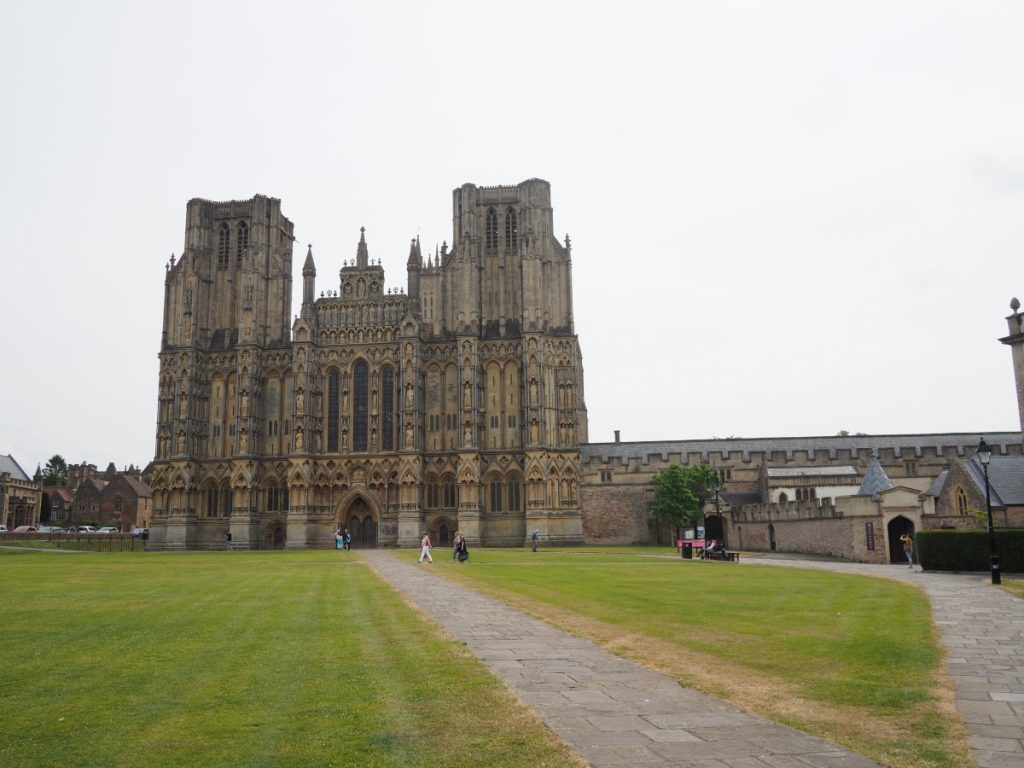 Wells Cathedral, another medieval masterpiece.
The free cathedral tour was about to start as we arrived so we joined it and were treated to an informative and interesting tour, full of extra Things to See. Later, on our meanderings we "discovered" the Bishops Palace and as it was late in the day, decided to come back and do the full tourist visit the following day. The palace itself was, hmmm, OK, but its grounds were well worth the entrance fee.
After 6 days of glorious sunshine, the weather changed on Friday. When I say changed, I mean it rained all day. This didn't really matter to us as Friday was a travelling day and we travelled down to Moreton campsite which is just outside Dorchester. What did matter to us was that our Sat Nav took us 7 miles along a very narrow, winding road, only to turn back at the end and head in the opposite direction, back to where we had started 30 minutes earlier. That awful moment when you realise what she's asking you to do…Damn technology.
Dorset
En route to Dorchester we diverted to the main Tesco for food, only to find its car park very difficult to use, definitely not suited to larger vehicles.
The rain stopped prior to our arrival at Moreton and once settled in we wandered over to its railway station and caught the hourly train into Dorchester, which was a 7 minute journey time away. A visit to Tourist Information had us loaded with maps and suggestions of places in the town to visit; my preferred place was Goldies pub on London Road. It's the oldest pub in Dorchester, so a visit with some history…oh, and they have Hobgoblin Gold on draught. Delicious. The weather continued to improve overnight and Saturday saw us again catching the train into Dorchester for another good look around, following one of the recommended Walking Tours of the town, doing some shopping and, of course, another visit to Goldies.
A day and a half was probably enough time to spend wandering around Dorchester so we had only booked 2 nights at the Moreton campsite so Sunday morning saw us packing up and heading for Aldridge Hill in the New Forest.
Hampshire
The "Camping in the Forest" Aldridge Hill campsite has no facilities; no showers, no toilets; it does have both grey and black water waste disposal as well as fresh water taps and only cost £40 for 3 days. Of course we have our own toilet and shower onboard, and our two leisure batteries provided ample power "off grid".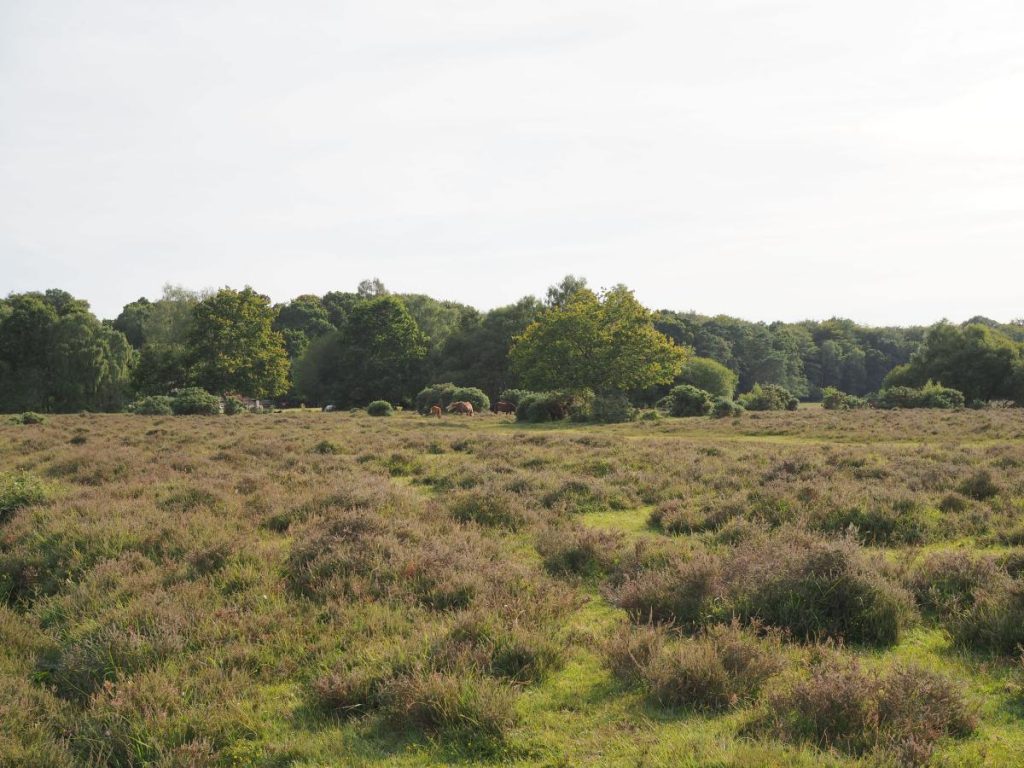 Our pitch looked out over the heather towards trees which was home to numerous cattle, highland cows, horses and a multitude of butterflies. All of the above roamed through the site at various times of day and evening. Well, they do live in the Forest, we're only visitors.
Aldridge Hill is 10 minutes cycle ride from Brockenhurst, which has an independent baker among its range of local shops so we were able to enjoy "viennoiserie" and fresh coffee for brunch, once back at the campsite, while marvelling at our surroundings in the New Forest.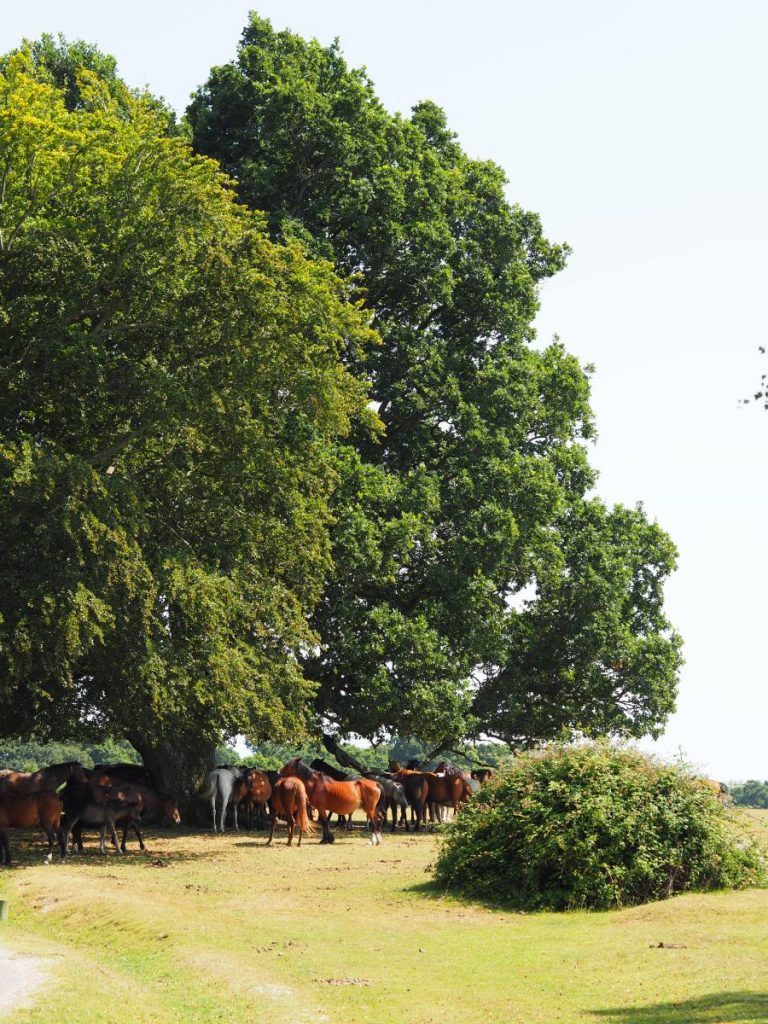 The weather turned very hot; over 30C, which we felt was too hot to cycle around the forest. Even the New Forest ponies were feeling the heat, and taking shelter. Instead, we settled for long walks on some of the many forest trails, keeping ourselves cool in the shade offered by the trees. Highlights were the sight of a woodpecker doing his work on a tree, and a treecreeper, flitting about in the woods.
Our three day stay at Aldridge Hill passed all too quickly. It was a very relaxing place. We will definitely be back. Downside is, this site has a very short season.