Hmmm. interesting one, this. Falaise was always "the place with the knights on the roundabouts" for us but never visited. Friends of ours had recommended Falaise as a stop and we were happy to locate the aire (or at least free overnight parking) right under the castle walls. There were a few large lorries at one side of the car park..more of that later! Having walked into town, and chosen a restaurant for a lovely lunch, the chateau was next on our "todo" list, but looking over the chateau walls to check on the parking below, we were quite horrified to see more of those colourful trucks had arrived, and we could see some poor camels poking their heads out of one truck..eek, the circus had come to town!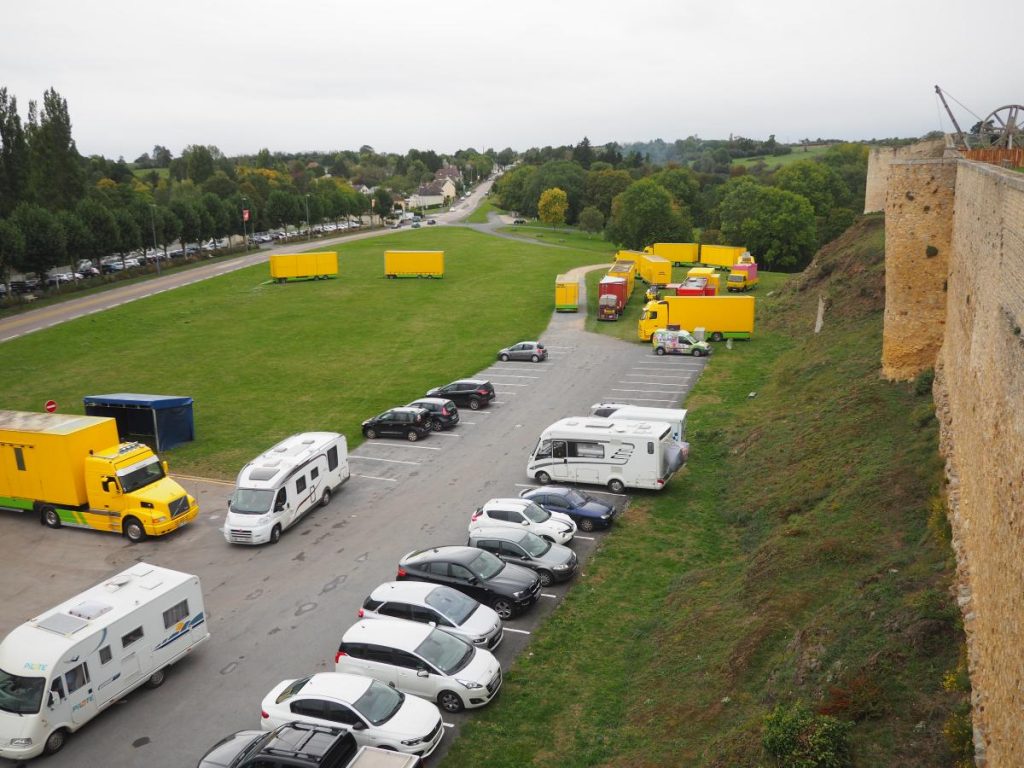 The circus has come to town. More and more vehicles will be arriving over the coming hours and we have no intention of staying here while they set up their "big tent" during the night.
We weren't sure what was most off-putting; the thought of those poor animals cooped up overnight in the trucks, the noise of the trucks' generators, the roaring of big cats at night or the fear of not being able to exit the car park due to the behemoth trucks (also would the big cats be taken out for a walk at night??) but we made a decision to get outta town! Andrew asked one of the drivers who told us the circus would be starting the next day. Such a shame because Falaise really did look worth a visit. I hope Falaise enjoyed the circus but it wasn't for us.
The tiny hamlet of Grainville- Langannerie was our very last overnight stay. In front of the Mairie and post office, there was a fair amount of traffic in the car park but no other vans parked up overnight. The church bells were really the only noise. We were so glad to have avoided the circus in Falaise, it would have been terrible to end the holiday on a "low". Next morning we covered the last few km to Ouistreham ferry port, via a large E LeClerc supermarket for a few biscuits and cakes for the office (yes Andrew buys biscuits for "his" office too) and gifts for our much appreciated cat sitters. We were able to resist the wines. At the ferryport the van was searched as usual and we boarded quite quickly. The weather was much better than on our last cross channel trip home, but it started getting a bit choppy so after dinner, Andrew and I retreated to our cabin for a lie-down. Soon it was time to vacate the cabin and return to UK soil.
So ended our wonderful 31 night trip. Next will be a summary of our holiday, including our conclusions and some stats.