Monday 18th July
Its even hotter today, with a high of 34C forecast, and not a cloud in the sky.
We're running short of food and are being eaten alive by the mosquitos so its off the the local supermarket to get provisions and something to keep the nasty flying things away. We're also running short of cash so need to find an ATM, then its off to Saumur by bikes. The journey there was hard going as it was 12 miles of off-road cycling in the baking heat, but being off road meant that there was no traffic to contend with.
After a stop in Saumur for photos, a cool refreshing drink and to replenish our water we set off for the campsite. It was so hot in places that the road surface was melting, passing cars sounded like they were driving through puddles of water. On arrival back in Gennes at 5pm we sought the boulanger to get some bread to go with our dinner. A display outside the local pharmacy showed that the temperature had cooled to an oppressive 37C, time to go back to the campsite and get in the shower.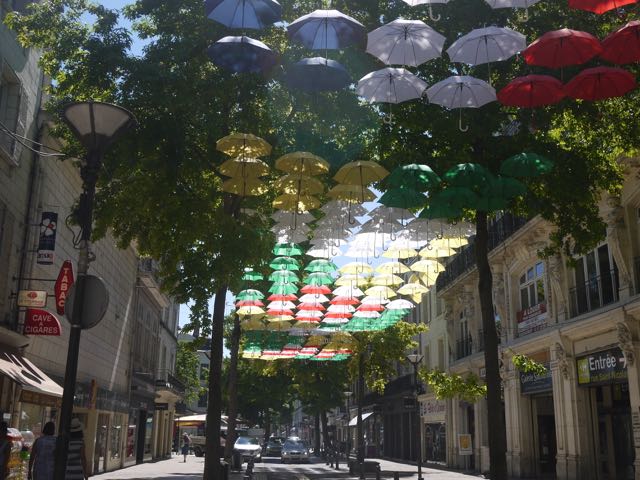 Tuesday 19th July
This is planned to be our last day in Gennes so we'll take an easy cycle ride up towards Le Thoureil on the beautiful and quiet banks of the Loire. All was going well until Fiona managed to get herself a rear tyre puncture. Our puncture repair kit didn't work, I think the glue had gone off years ago so after 3 attempts to fix the puncture I was left with no option but to cycle back to Gennes and try and get a new repair kit. 20 minutes later I was in the Super U, had purchased the new repair kit and a replacement inner tube and a large bottle of cold water. It was getting hot, but I didn't bother to look at the temperature readout at the pharmacy. Another 15 minutes and I was back with Fiona and set about changing her tyre inner tube. As we'd lost a good few hours and I was shattered, we decided to return to the van and chill out for the rest of the day. We cycled back to Gennes later that day for some more provisions (Fiona had finished off all the cider). It was hotter than before, the roads were melting, and Fiona was retching from the stench of the tarmac. This time we did look at the temperature reading outside of the pharmacy and were horrified to see that it was 41C. Bring on the cold cider.
Wednesday 20th July
We are woken at 06:15 by what sounds like a gas burner blasting away. I'm worried. We have about 15 litres of propane onboard. I deactivate the alarm and jump out of the van to see what is happening. There was no need for me to worry. Looking up, it was obvious where the noise was coming from, as shown in the photo below.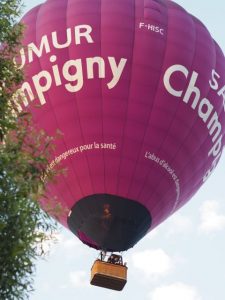 Chillout day. And for good reason. I hardly slept a wink due to the temperature and to sheer heat exhaustion so today all I did was drink plenty and keep out of the sun. This was nothing to do with the cold cider nor with the wine. Fiona did much the same as I. Thankfully, at 32C, the day is much cooler than yesterday.
Thursday 21st July
We depart Gennes and head back to Saumur en route to St Cyr en Bourg while trying our hardest to avoid driving anywhere near Saumur Centre. Finally we arrive at 'Robert et Marcel', which used to be known as 'Cave de Saumur'. After a few tastings we make our selection, pay up and set off in the general direction of Angers where we hope to stay the night before heading back towards Normandy. We end up at a campsite in Rochfort sur Loire where we stay only one night.
Friday 22nd July
It rained overnight – fantastic – its cooling down. Oh no, its not.
We're up early and soon on our way once we have played with the sat nav, heading around Angers and heading for Laval. The countryside here is fantastic, its like Devon but only warmer and on a much grander scale with its countless fields and woods. We deposit ourselves back in the Aire at St Jean sur Mayenne which only charges €9 per night for a pitch, electric and unlimited showers. We chill out here and plan the next stop as we intend to depart tomorrow to see something of Normandy before we go home and I hope to buy a bottle of Calvados.
Saturday 23rd July
Up early, well 8 ish, and then head off by around 10 o'clock. We have decided to head for Bagnoles De L'Orne in Normandy. We have been there before when the kiddies were small, but all I can remember is that it rained heavily all day long – let's hope for a better visit this time. We arrive at the camp site at around noon and wander in for a look and quickly decide to stay.
Camping du Vee is a short 4 or 5 minute cycle ride from of Bagnoles, and has the best sanitary facilities we have yet seen at a campsite, they even supply the toilet paper! We park up, set out the table and chairs beneath the awning and then head off on bikes to explore the town and to take a few photos. There is nothing 'traditionally French' about Bagnoles, it dates from the late 19th C so has none of the usual 'lived in' looks.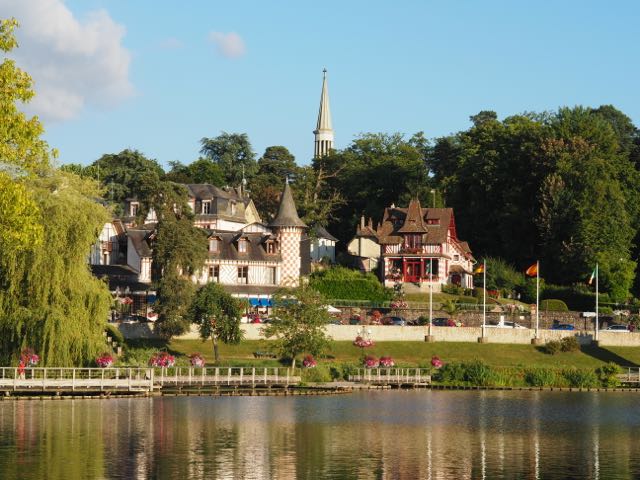 Sunday 24th July.
Its church day, well it is for the locals, the damn bells have been ringing for a while now. Despite this, the local small supermarket, boulanger and other shops are open for business and we spend a few hours in the afternoon drinking and 'people watching' to while away the time. Fiona gets her second bike puncture and has to walk the last 200 metres to the campsite where we are able to repair it.
Monday 25th July.
It rained for about 2-3 minutes this morning – well, it is Normandy isn't it?. Anyway, it soon dried up and became a nice hot day. Bagnoles has a 'velo rail' on a disused railway so we decided to cycle over there and give it a go for the afternoon. It took us around about 50 minutes to complete the outbound and return sections after which we dillied around in the centre of town enjoying a mojito and a beer while people watching – all in all it was a great way to spend our last full afternoon in France.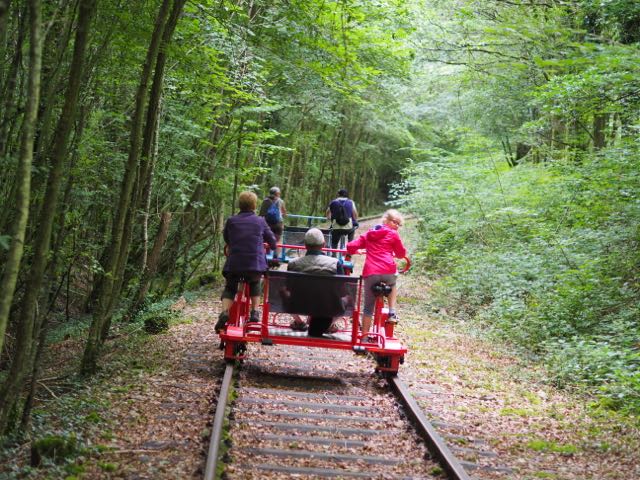 Tuesday 26th August
We slowly meander our way from Bagnoles towards Le Havre, taking a number of wrong turns but we still get there in time for the 'economic' ferry crossing and home by 23:00. We take the opportunity to fill up with diesel at Lisieux, with the price of €1.04 it would have been stupid not to. This works out at £0.87 a litre which is far more palatable than the UK price of around £1.12.