Going North for a holiday
York is a long journey north for us. We have visited the area once before when we attended Richard & Ann's wedding back in the early 80's, but we have never been back. I've always wanted to visit the York railway museum and crawl around the old railway locomotives, but it was always too far to go. Now that we have more time on our hands we decided finally to bite the bullet and head off up north. We booked our campsites, 2 nights outside Burton, followed by 4 nights at an 'adults only' campsite just outside York. We waited with anticipation for the dates to arrive.
On the morning of our planned departure we awoke to a snow covered landscape.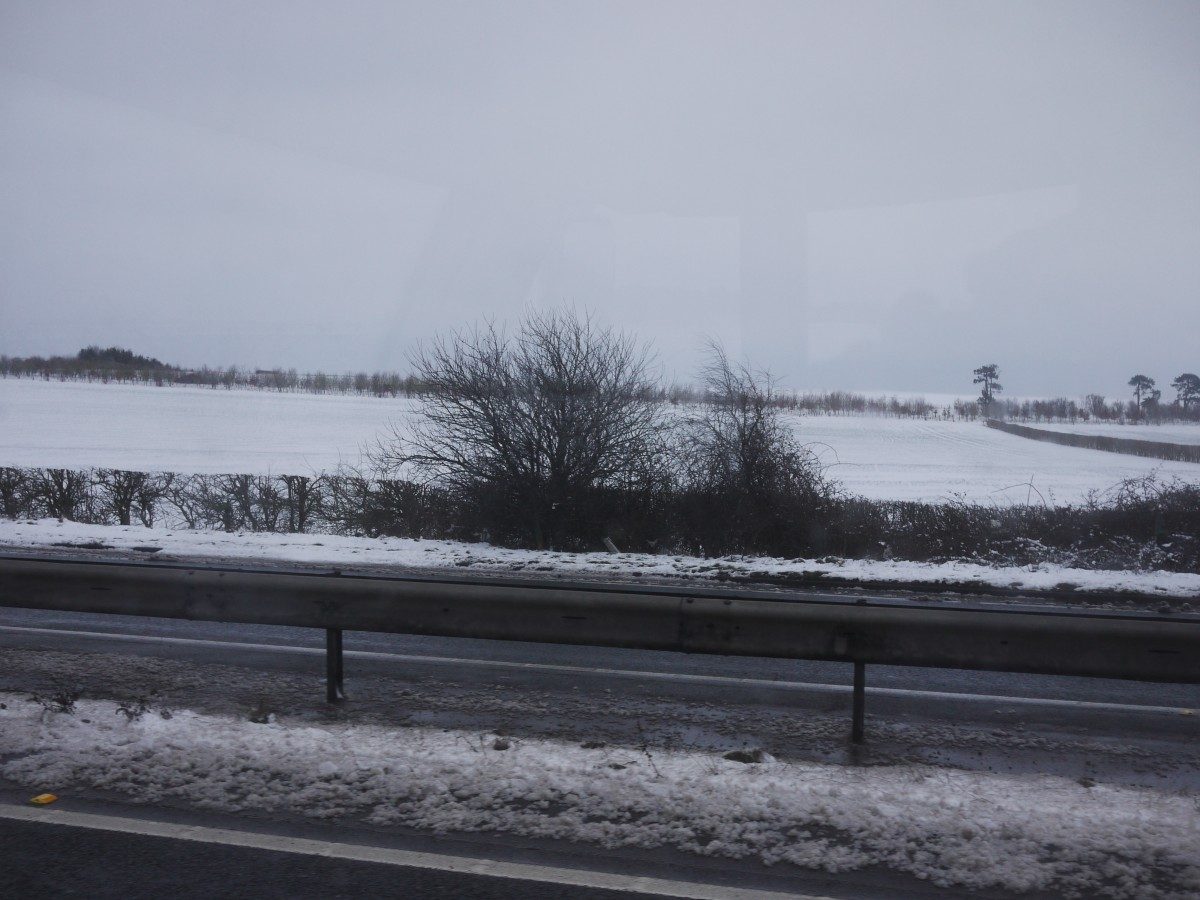 It was freezing cold and we were worried about driving in the snow; we waited until the roads had cleared and then headed off.
The countryside was snow covered all the way but presented no problems. The 'Conkers' campsite roads were iced over, but we managed OK.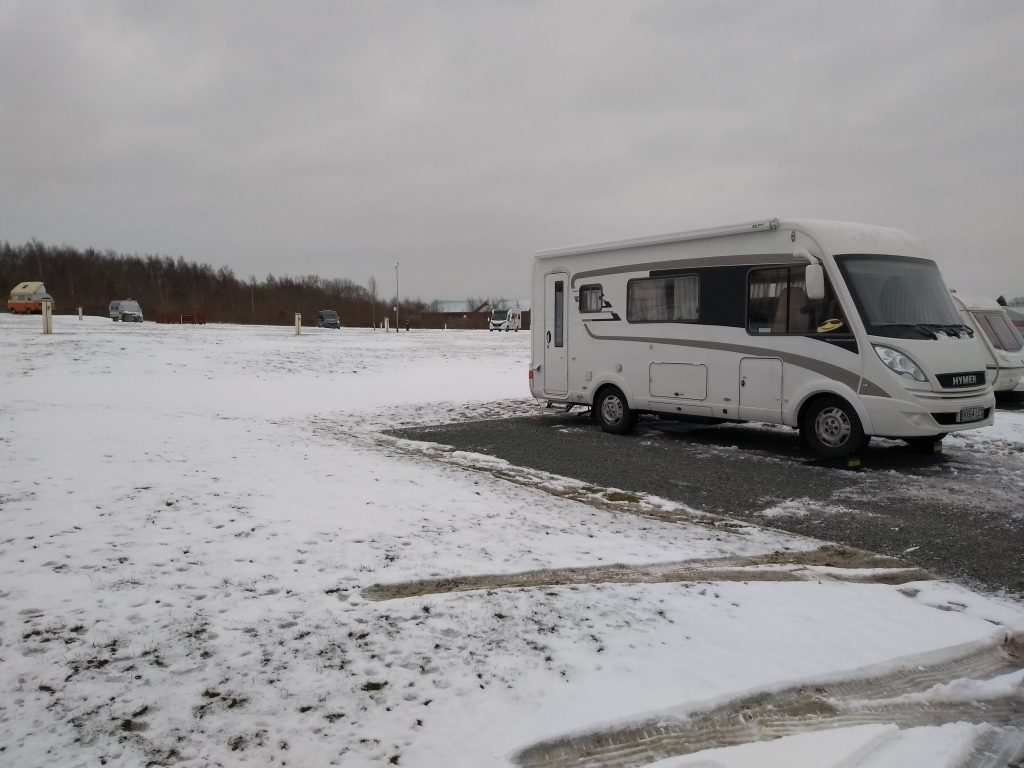 We spent 2 nights at Conkers which is in the National Forest, our stay was really just a stop-over on the long trek up to York, but gave us a day to hike around the forest trails.
The snow had all but disappeared and the sun was shining when we set off for York on Tuesday morning.
Fiona had her foot down all the way so we arrived in York much earlier than anticipated. A short stop at the large Asda on York's Monks Cross retail park to replenish our food and then on to York Caravan park to settle in.
York Caravan park is nice with level pitches and large heated private bathrooms. It is an adult-only site so no noisy kids. There is a bus stop right outside for a 10 minute bus-ride to the centre of York, we became regular users of the 10:30 bus into York and the 16:38 back out again.
The Minster and City of York
We knew that the Minster was going to be well worth a visit as we'd done our homework and read-up on its history. We've visited Winchester cathedral a few times so thought we knew what was in store for us.
The city streets leading to the Minster were wonderfully Medieval, very reminiscent of towns in Normandy. We meandered in the general direction of the Minster, which was hidden behind streets of Colombage style houses while all the time anticipating shouts of 'gardez l'eau'; thankfully no such shouts came. We explored the old narrow streets with names such as 'The Shambles', 'Swinegate' and many other roads ending with 'gate'. In old germanic/viking 'gate' meant road so these were road names and not gate names.
Wow, the Minster was so much more stunning in than we'd expected. We decided very quickly to splash out on tickets, go in for a visit and join in one of the Minster tours.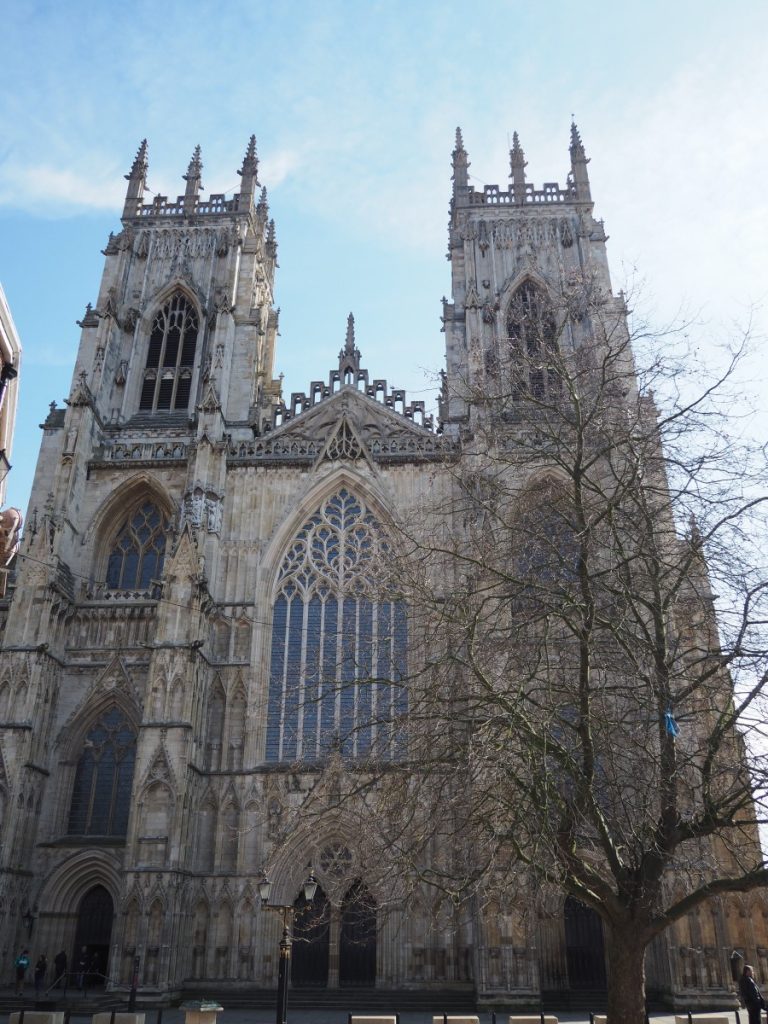 The Occidental or western end of the Cathedral.
Just think, this marvellous creation of Man was completed in 1472; it really is stunning. It's 520 ft long and 222 ft wide, the height of the nave is 99ft and the towers extend to 196 and 225 ft. Unbelievable, and all built without the aid of a computer, JCB, bulldozers, machine tools etc, and apparently without an overall design, though I do find that bit hard to believe.
York is a really lovely city, nice and compact so easy to get around, plenty to see, and with fascinating history. There were a good number of independent small cafes and coffee shops so finding lunch or a snack was easy. During the week it seems to be a 'gentle' place but it really came alive at the weekend with an influx of hen-parties and stag do's. With its numerous old pubs it looked like a great place for a night out.
Sightseeing around York
Rather than plod around York on foot seeking out the interesting parts we treated ourselves to a 24 hour sightseeing bus pass each and toured the city in an open topped bus. The weather was cold but dry and we got a much better view from the top of a double-decker bus than we would have walking the streets. So much so that we went around the city twice before getting off the bus. The following day we leapt back on the bus for another final tour before our bus passes expired.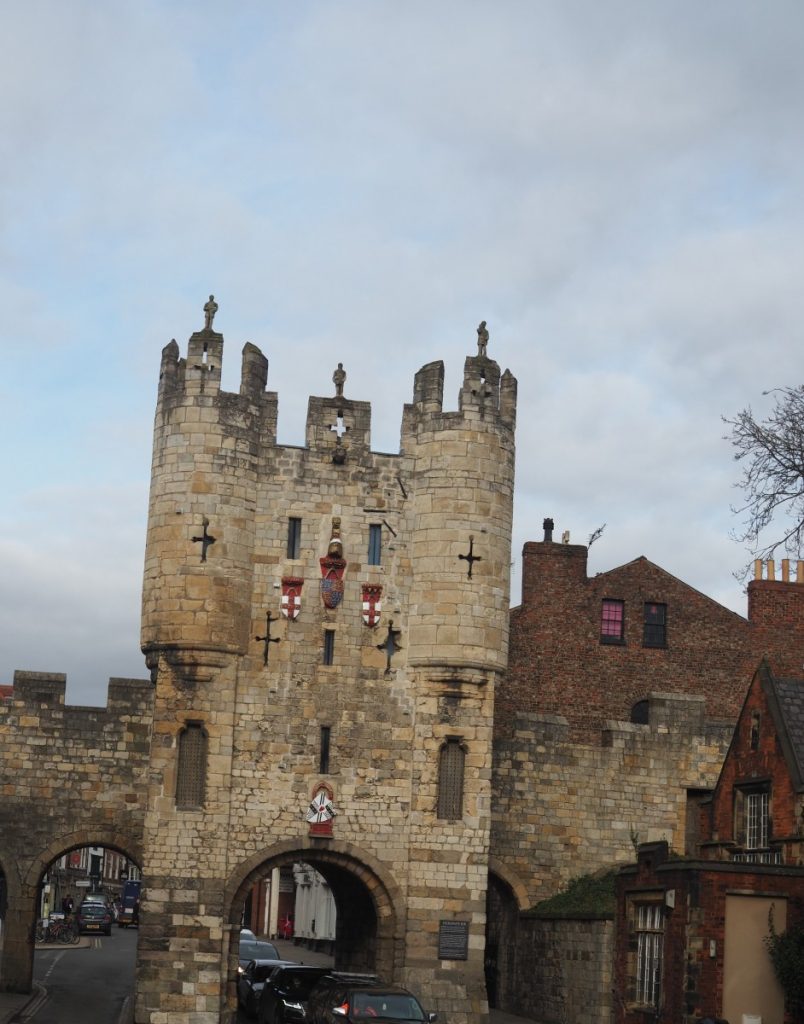 This is Micklegate Bar where in 1460, the head of Richard the 3rd Duke of York was stuck on a pike for all to see.
Below are some of the photos we took of York.
National Railway Museum
This is what I really came here for; it's billed as the best railway museum in the world and its admission is free. There was a lot to see there, steam locomotives, royal trains, Mallard among numerous other engines. The 'Mallard' simulator was a bit of a let down, good job we managed to get concession tickets for it, the rest of it was marvellous. There were many restored locomotives and a few restored royal coaches, even a few diesel engines too. The station hall and great hall exhibits were superb, however, the warehouse was stuffed with railway artefacts including dining crockery, silver tea sets, seats, models of trains and ships, clothing – uniforms and tons more leftovers from a bygone age. I could have crawled around the warehouse exhibits all day long.
The Evening Star, loco number 92220,the last steam loco built for BR; it's hard to believe they were still making steam locos in 1960.
Here is a gallery of photos we took as we wandered around the exhibition halls, click on them for a better view.
Jorvik Viking Centre
We hum'd and ha'd about visiting the Jorvik Viking centre before heading over there on the Saturday afternoon only to find a long queue outside so decided to give it a miss. The following morning after getting off the bus we went straight over to Coppergate and found there was no queue at all so we bought the tickets and went in. The exhibition has two distinct parts. The first is a ride (at walking pace) through reconstructed Viking streets featuring huts, pigsties, animal pens, a fish market and shops, all with 'authentic' smells, and populated by Viking mannequins. The ride lasts about 15 minutes is accompanied by an informative sound track explaining each of the exhibits.
The second part of the exhibition is a museum showing some of 40,000 or so artefacts discovered when Coppergate was excavated back in the '80's, as well as some exhibits on loan from other museums.
Burton water
Our holiday is now over and we are heading back south. We'll break our journey with one night at the Conkers campsite which is a handful of miles from Burton on Trent.
It's a long drive from home to York, 279 miles in total according to google broken down as 116 from York to Conkers and a further 163 miles to home. Fiona has lost her fear of driving the van so she drove from Conkers to York and then drove all the way home.
Before we set off from Conkers, we fill the motorhome fresh water tank with Burton water which I will use in my home brewing once I get home. Burton water doesn't contain anywhere near the amount of calcium or magnesium as our own domestic supply and should be far better for making lighter beers. Let's wait and see.
Sore back
Before setting off on holiday I manage to hurt myself probably by twisting or stretching before a run or while cycling. This left me with an awful pain in my right hand side, just below my ribs, at and around my kidneys. Having already been told not to ruin the holiday by rushing off to A&E I decided to grin and bear it. However, it was so painful that I had to visit my doctor on my return home. Thankfully, it was my ribs and nothing to do with my kidneys. With the right drugs and free prescription, the pain will go away in time.