The travelling restrictions, or lockdown, needed to reduce contagion of CV-19 is having a detrimental effect on my homebrewing as I need to travel over to Fratton to collect ingredients, travel which is hard to justify as "essential". Thankfully, before the current lockdown I was able to get to GetBrewing.UK , in Fratton, and buy sufficient ingredients for 4 brews.
I remember the delicious taste of Gales HSB from the Horse and Jockey, Curbridge, where I remember spending many a lunchtime while working for Digital at the Solent Business Park, so I thought I'd give the recipe for Gale's HSB a go and try to recreate that taste.
The fruits of my labour are now ready to drink, well, at least the first batch is.
Fullers bought Gales brewery a few years back and since then HSB never really tasted as good as I remember, but it's still good. There are a number of recipes available on line, I used the one from Graham Wheelers book.
The fermentation was with Empire yeast at 19C for a full three weeks then kegged and left to condition. I left it 5 weeks to condition before sampling it. It was really tasty, but more than 2 glasses leave me with a bit of a dull head. After 3 glasses I have found that my tongue stops working properly.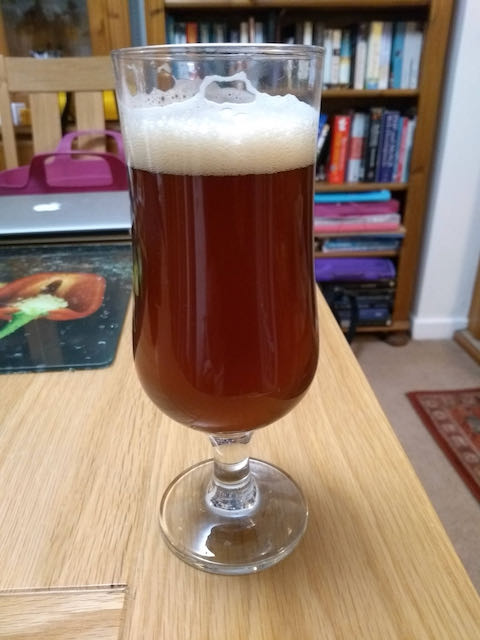 Although a little cloudy at first it soon cleared up and is really tasty. I've made three 2 gallon batches and will definitely brew more once the current lockdown is relaxed and I can get over to GetBrewing.UK
I will be leaving the remaining two kegs longer to condition in order to help the initial clarity. I might experiment with the next brew by adding in just a little more hops to give it more of a fruity bite.
Update 9th Feb
Disaster. It's all gone. Well, the first keg full is. I can't find any sign of a leak; Fiona has not been helping herself to it. Damn! I guess I should be brewing 5 gallon batches.